HERON CAY Lakeview - a AAA Four Diamond
Bed & Breakfast INN

"Authentic Recreation of a 9200 Sq. Ft., 1890's QUEEN ANNE Victorian Mansion"... with 8 'One of a Kind' Rooms overlooking Lake Dora
~~~ Located at 495 West Old US Highway 441, Mount Dora, Florida 32757 - CALL 352-383-4050 / EMAIL innkeeper@heroncay.com ~~~
Due to a 'last minute' Cancellation... CAPTAIN'S QUARTERS is AVAILABLE... Tomorrow... Saturday Night!
** NOW, A VERY SPECIAL OFFER for SUNDAY EVENING ! **
Book a Stay here Tomorrow, Saturday Night, and receive 2 FREE VIP Tickets; including the 'Meet & Greet' before the Sunday Show, for...
Sunday October 11th, 2015 @ 6:00pm - Celebrating 50 Years! JEFFERSON STARSHIP, a collaboration of celebrated musicians that plays from the rich songbook of its legendary forefathers JEFFERSON AIRPLANE. JEFFERSON STARSHIP, prevails as one of the most critically acclaimed touring acts today.
You will need to return home, or find another place to stay after the show Sunday: We are FULL... JEFFERSON STARSHIP is staying Here.
Please Call for Information - 352-383-4050 !
Below... A Special Picture of our Facade... taken by our friend, and renowned Architectural and Landscape photographer, Doug Thompson.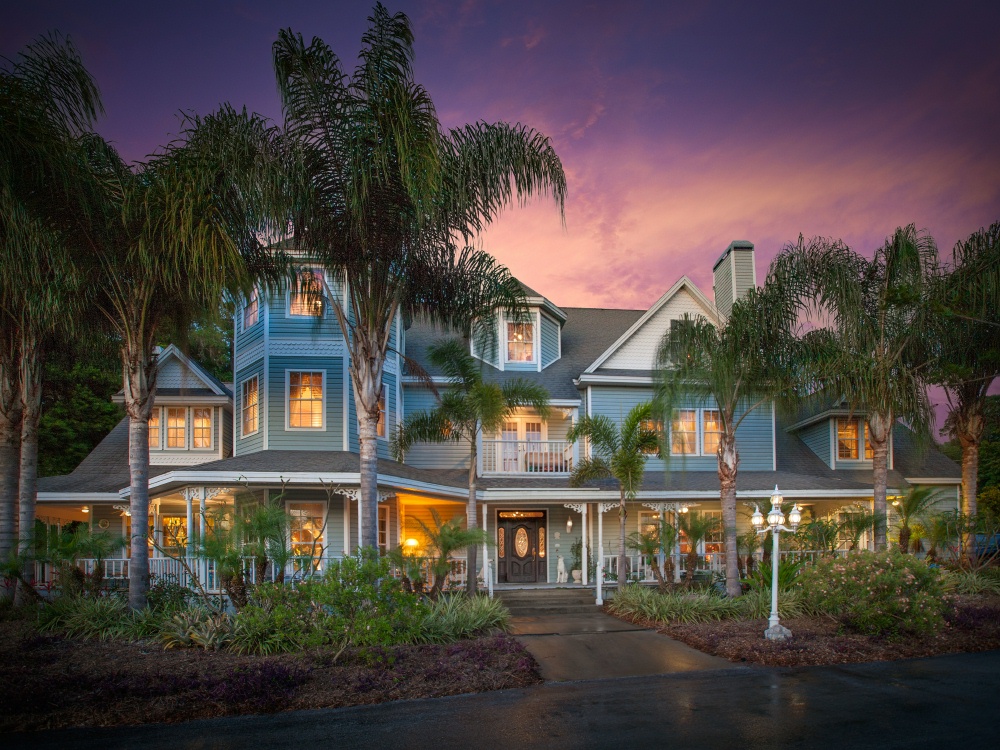 Please visit and patronize Doug's Mount Dora business... Mount Dora Olive Oil Company (website - Mount Dora Olive Company) and for a Showcase of his Award Winning Photography, visit his website - Doug Thompson Photography.
**** Click Here... To View Our Rooms and General Rates !! ****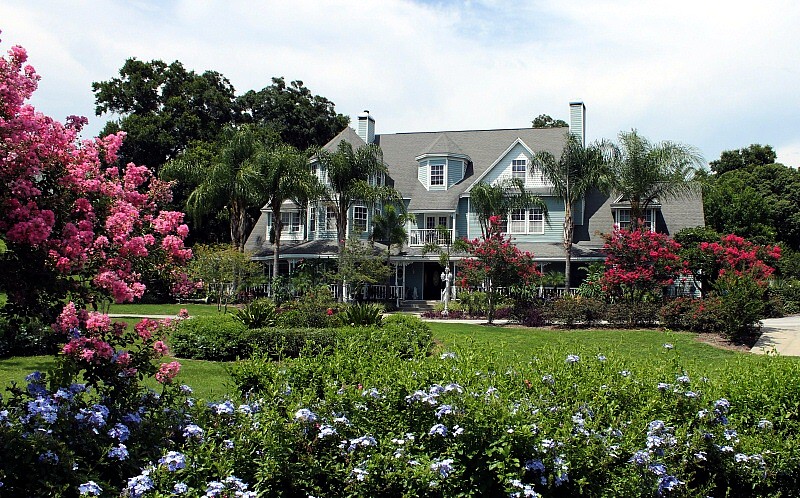 Please call for Information about our WINTER SPECIALS!! 352-383-4050 !
*** SEE Us On You Tube NOW! *** AND Now Please 'Support / Like' Us on FACE BOOK ***
AWESOME SUNSETS over Lake DORA !!
And When ALL Conditions are PERFECT?? We are WATERFRONT!
Our usually DRY 'Pond'... has Water (Rare), and a Sunset to the Northwest !
**** Click Here... To View Our Rooms and General Rates !! **** Then CALL MARGIE at 352-383-4050 or 888-437-6622
Inquire about our 2/3 Night Specials *** Please CALL Margie 352-383-4050 / 888-437-6622 *** eMail: innkeeper@heroncay.com
Our 'Pool FURNITURE is finished in AwlGrip Epoxy paint; in BRIGHT Island Colors'
We bought 'the BEST - SUNBRELLA' - and have been, fighting 'Black Spotting every since!! DEPRESSING !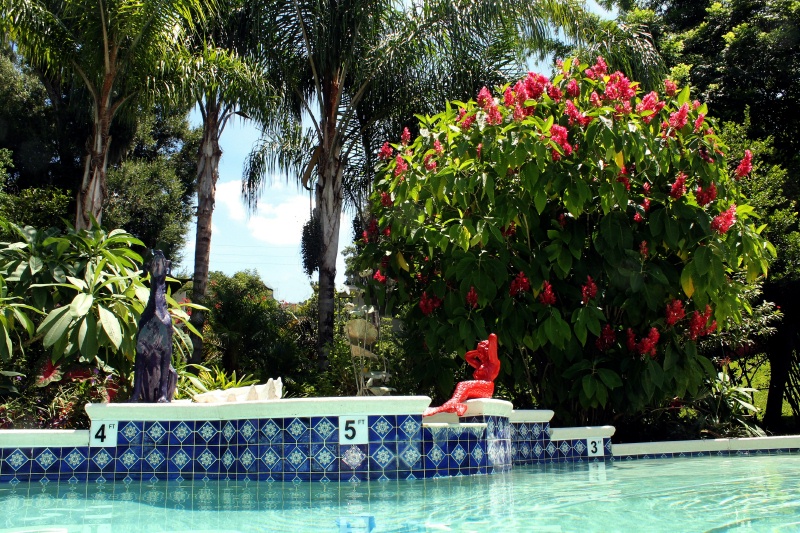 In our Pool... Surrounded by Tropical Flora !!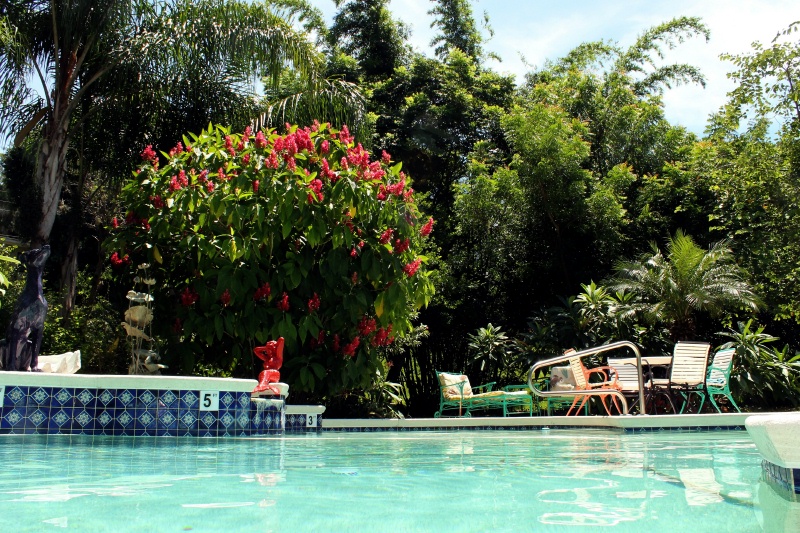 FOUR
DIAMONDS... for 19 Continuous Years

Please do not confuse 'Bought' "4 and 5-Star Ratings"... with being 'Awarded' FOUR DIAMONDS by AAA - These Are Not FOR SALE !!
~~~~~~~~~~~~~~~~
Located in Beautiful Mount Dora, Florida... and just a 4 'MINI' Block walk to DOWNTOWN!!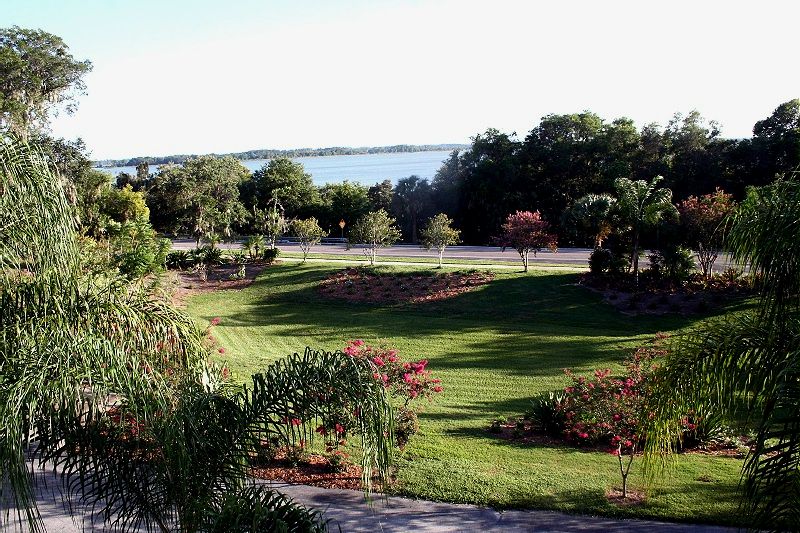 Situated on 2 plus Landscaped Acres Overlooking Lake Dora...
We are the PERFECT place to CHILL OUT ! Ringo, our 17 month old Borzoi Puppy chilling in HIS room!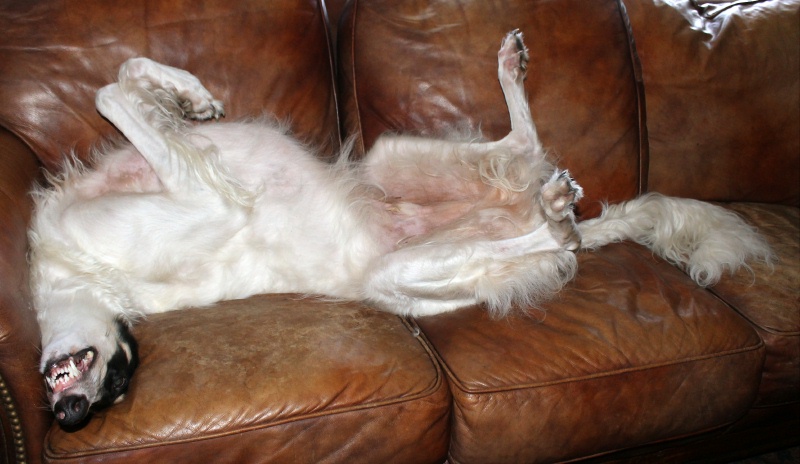 ~~~~~~~~~~~~~~~~~~~~~~~~~~~~~~~~~~~~~~~~~~~~~~~
The Many things to DO in and AROUND MOUNT DORA:
Boat Tours - Boat Rentals - Balloon Rides - Antique Shops - Golf - Horseback Riding - Kayaking - Music - Tea Rooms - FOOD & WINE!! - Art Galleys - Sea Planes Rides - AND Truly, a 'ONE of a KIND' experience ... the 'Orange Blossom Cannonball' Florida's Historic 'Turn of the Century' Steam train! America's #1 Movie Train - '3:10 to Yuma' / 'True Grit' / 'Appaloosa'/ ' Rosewood'... SEE BELOW!!
~~~~~~~~~~~~~~~~~~~~~~~~~~
Service between Mount Dora and Tavares. Enjoy various departure times between Mount Dora and Tavares!!
CLICK on the STEAM ENGINE Above to receive MORE Information !
~~~~~~~~~~~~~~~~~~~~~~~~~~~~~~~~~~~~~~~~~~~~~~~~~~~~~~~~~~~~~~~~~~~~~~~~~~~~~~~~~~~~~~~~~~~~~~~~~~~~~~~~
Relaxing on our Front Porch... you will forget ALL the Stresses the World !!
The ONLY Bed & Breakfast in MOUNT DORA to offer 'AIR SERVICE' at the Front Door !! (A function of the weather, however!)\
The Horse & Carriage Ride is BACK to MOUNT DORA !!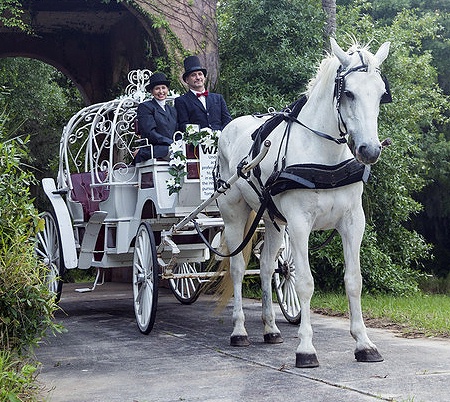 Please go Visit them at... EQUINE VILLA ... And ask about a 'Pick-Up' Here !!
**** Click Here... To View Our Rooms and General Rates !! ****
Our "STANDARD" Rooms start at $125 (Summer Weeknight)... and range in size from 250 ft2 to 320 ft2 (A 15 X 15 room is only 225 ft2) they overlook the Pool & Gardens !! All Rooms Include: FULL Private Bath - Flat Screen TV - WIFI - Refrigerator - Hair Dryer - Robes - MORE... and a 4+ Course Gourmet Breakfast!
Visit the DOZENS of Antique Shops in and around Mount Dora: Depart from Downtown via WATER... Take a Pontoon Boat Tour of the Unspoiled DORA CANAL... or Enjoy a Beautiful Sunset CRUISE (Go to DORA CANAL): View the Rolling Hills and Lakes by AIR... aboard a HOT AIR BALLOON (Go to ROHR BALLOONS)... and NOW BY AIR!!!
*******************************************
*** Summer Time!! Seaplane Flights / Tours departing from Tavares !! ***
'CLICK' on the Plane below to visit their WEB SITE
Jones Brothers Air And Sea - 150 East Ruby Street - Tavares, Florida 32778
352-508-1800
*******************************************
Something NEW and DIFFERENT to do when in Mount Dora for a couple of Days!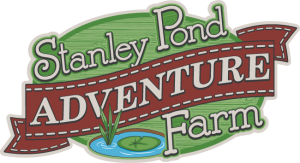 Fun for ALL Ages !! Currently during the month of October... it is PUMPKIN TIME... Fall Festival 2015 and Pumpkin Patch!
CLICK on the PUMPKIN PATCH BELOW to VISIT Their SITE!!
Set out for a Great Outdoor Adventure at our family owned and operated agritainment farm where we encourage families come play for a day of fun together in a country setting during our Fall Celebration.
Unique family fun activities that you won't find anywhere else, they include; catch and release fishing, Skippy the mini airboat ride around Stanley Pond, our Sami's Bee room, pumpkin bowling, Larry the Loader's giant sand pile, Elli Mae and her Blue Cow ride through a "Cow Wash" and a 1932 Fire truck family ride. AND MUCH More !
*******************************************
A Weekend in MOUNT DORA -- A GIRL'S GET AWAY... And/Or a GUYS' Awesome GOLF Plus GET AWAY !!
*** Please CALL Margie 352-383-4050 / 888-437-6622 about 2/3 Night Specials *** eMail: innkeeper@heroncay.com
*******************************************

FOUR
DIAMONDS... Now for 19 Continuous Years

*** PLEASE Remember - the Old 'Idiom' : " You ' GET ' what you pay for..." ***
**** Click Here... To View Our Rooms and General Rates !! ****
*******************************************
When you want to 'Get Out of Florida' on a tank of Gas... Come To Beautiful, Mystical Mount Dora, located in Central Florida ...
You will feel you are in... the 'Foot hills' of the Carolina's... Pennsylvania... 'Up State' New York... Vermont... New Hampshire... almost anywhere in the Northeast... and with a little Imagination... England, Austria, Germany... But the 'Palms' are a Dead Give Away!
A 'BRIGHT' Spot in your Mount Dora Visit!!
One of the MOST photographed 'Landmarks' in Mount Dora!!
Truly an Escape to a Place lost in Time... in the Lakes and 'Foot Hills' of Florida !!
Margie and I invite you to Come stay at Central Florida's ONLY AAA Four DIAMOND Bed & Breakfast Inn... 19th Year !!
During the Day... Relax around the Pool... The Plants have GROWN and the Furniture and Deck have been Painted !
and in the Evening, 'Sip' your favorite beverage as you Enjoy the end of another Perfect, Mount Dora DAY!!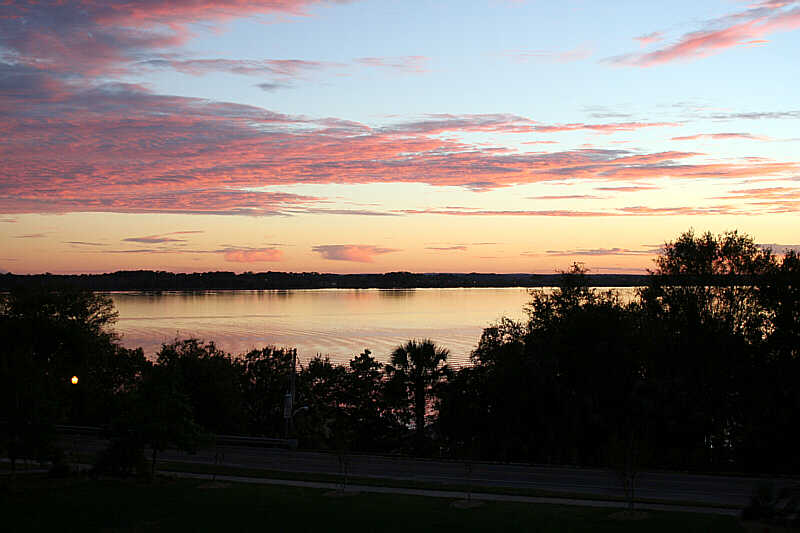 Another Beautiful Sunset... A Truly , ROMANTIC Experience!!
Expect... and Receive the BEST!! 19 Consecutive Years... Awarded
AAA Four
DIAMOND Rating
for Lodging and Food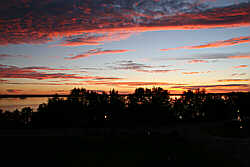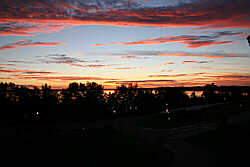 If you only desire a 'Motel Room' for the night... You will find a nice selection on NEW Highway 441 at the 'Best Western', 'Motel 6', 'Comfort Suites', Etc...
Click On...Mount Dora FL Bed and Breakfast for Rooms/Rates
Is it Time for that weekend GET-AWAY to Mount Dora?? We Qualify for that 'STAYCATION!!'
''Summer' Accommodations starting at $125.00 / $175.00 (weeknight / weekend) - Inquire for Specials
~~~~~~~~~~~~~~~~~~~~~~~~~~
When visiting... Always leave time to Experience the Charm of MOUNT DORA... by LAND or AIR!!
'FLY / DRIFT' AWAY In a Hot Air Balloon...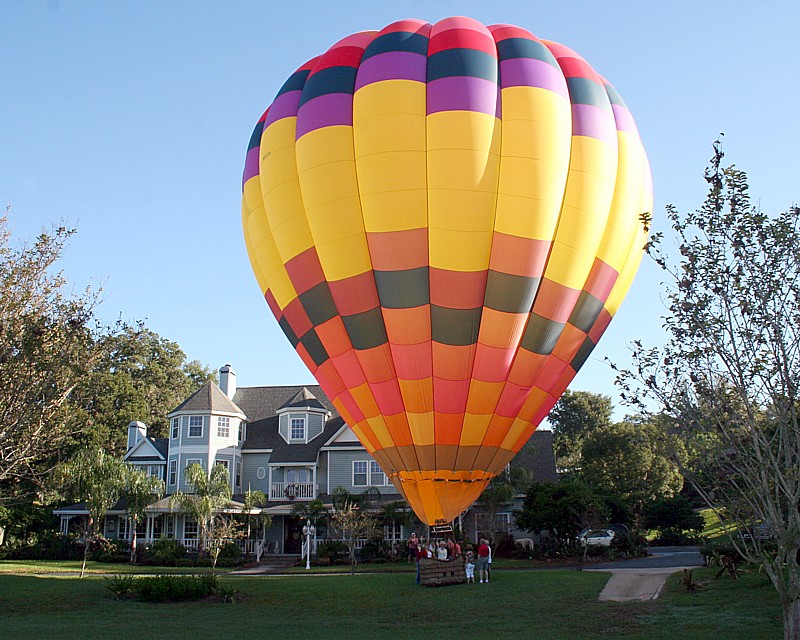 Click on the Picture Above to go to Chuck Rohr's Site... It tells it ALL!! and tell Him Randy & Margie sent you!!
If the weather is 'RIGHT'... you can Walk out the Front Door... 'Hop' Aboard... and Depart from Heron Cay's Front Yard!!
Then... GO KAYAKING through the REAL FLORIDA you saw from the SKY!!!!!
*** Central Florida Kayak Tours ***
Please CLICK ON the Picture ABOVE to view their WEB SITE! It is a MUST See! And tell them Randy & Margie sent you!!
~~~~~~~~~~~~~~~~~~~~~~~~~~
*** INQUIRE about Summer SPECIALS!! ***
Please CALL 352-383-4050 or 888-437-6622...



for AAA Four
Diamond 'SUMMER' Lodging RATES

To View Rooms and Rates... Please Click Here!!

~~~~~~~~~~~~~~~~~~~~~~~~~~

The MOUNT DORA Area is About ANTIQUES, EVENTS, FESTIVALS and ESCAPE from the Everyday WORLD!!

If you want to know EVERYTHING going on HERE...Click to Visit:

and

Mount Dora Area Chamber of Commerce!!

And here is

how the 'Chamber's Current Home' looked in 1922 !

~~~~~~~~~~~~~~~~~~~~~~~~~~

And for MORE things to Do In and Around MOUNT DORA...

Visit... LAKE County to See ALL that is HAPPENING... NEARBY!!

For a 'Quick' Historical Look at Mount Dora... go 'visit'... Dora Ann Drawdy

~~~~~~~~~~~~~~~~~~~~~~~~~~

Call Margie at HERON CAY: 352-383-4050 or Toll Free at 888-HERONCAY (888-437-6622) to Book one of MOUNT DORA's Legendary Festivals, Events or Just a FUN FILLED Weekend / Weekday!!

Send eMail to: innkeeper@heroncay.com. However, there are so MANY Things to be DONE here... eMail is NOT INSTANTLY Checked!!

We have Eight Rooms available to our Guests: All with FULL (Tub & Shower) Private Baths, Small Refrigerator/Freezers, Televisions and WI-FI. Including 'ZOI' Garden, our first floor room which is fully ADA Compliant and also 'PET(s)' Friendly!

**** Click Here... To View Our Rooms and General Rates !! ****

************** PLEASE NOTE!! **************

WARNING!!!! Many 'Internet and GPS MAPS' will give the WRONG Location if our address is entered incorrectly!! Especially 'GPS Nav. Systems' !! When in doubt, please contact Margie at 352-383-4050 (Toll Free 888-Heroncay) or eMail her at... innkeeper@heroncay.com

~~~~~~~~~~~~~~~~~~~~~~~~~~~~~~~~~~~~~~~~~~~~~~~~~~~~~~~~~~~~~~~~~~~~~~~~~~~~~~~~~~~~~~~~~~~~~~~~~~~~~~~~~~~~~~~

The 15th MOUNT DORA FLORIDA HIGHWAYMEN SHOW & SALE was another success !!

For 7 Years, Randy & Margie of HERON CAY B&B INN, have been Bringing the REAL HIGHWAYMEN ARTISTS to MOUNT DORA !!.

The WINTER Highwaymen Show is coming January 23rd and 24th.

Bel;ow: The 'RAFFLE' Painting from the August, 2014 Show: MOUNT DORA's Historic Train Station with Vintage Steam Engine by Highwaymen Artist, R. L. Lewis.

A Limited Edition Series "1907 Baldwin Steam Engine at Mount Dora Depot 2014"- Numbered 2 thru 25
Is now Available in Prints, Giclees and Other Options.
Stretched & Framed - $400 / Un-Stretched & Unframed - $300 CALL 352-383-4050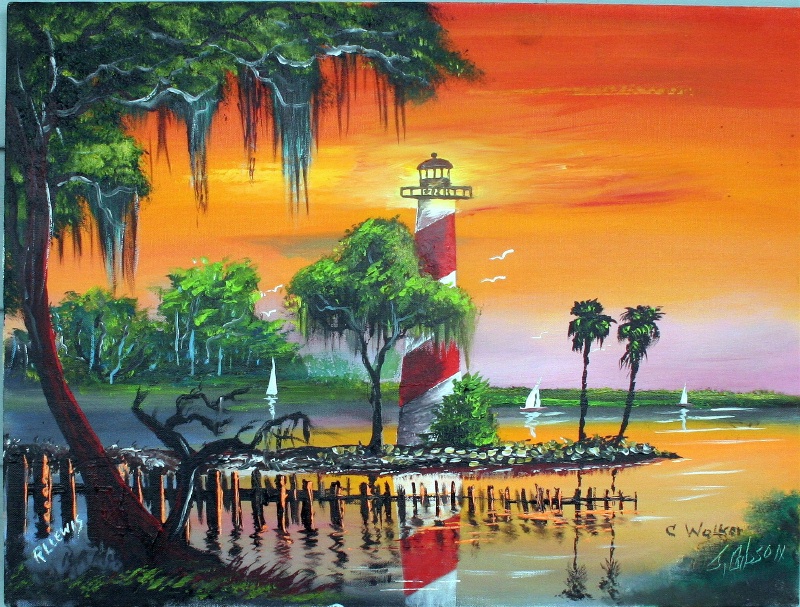 The Second Collaboration 'RAFFLE' Painting of MOUNT DORA's Waterfront at GILBERT PARK'.
GICLEEs (Print on Canvas) of the 2nd COLLABORATION RAFFLE Painting of Mount Dora's LIGHTHOUSE and Waterfront'
signed by All Artists (on back), is available: Stretched & Framed - $400 / Un-Stretched & Unframed - $300
Call - 352-383-4050 or... eMail
~~~~~~~~~~~~~~~~~~~~~~~~~~~~~~~~~~~~~~~~~~~~~~~~~~~~~~~~~~~~~~~~~~~~~~~~~~~~~~~~~~~~~~~~~~~~~~~~~~
Signed Posters and Flyers from ALL 13 Mount Dora Florida Highwaymen Events... ARE still available FOR PURCHASE - Please INQUIRE.
1st - Aug., 2008 2nd - Jan., 2009 3rd - Aug., 2009 4th - Jan., 2010 5th - Aug., 2010 6th - Jan., 2011
~~~~~~~~~~~~~~~~~~~~~~~~~~~~~~~~~~~~~~~~~~~~~~~~~~~~~~~~~~~~~~~~~~~~~~~~~~~~~
~~And Now... A Tour AROUND the Inn !! ~~
Hopefully you have seen the 'BEDS'... here is the 'BREAKFAST' !!
All Lodging, comes with OUR Four+ Course Gourmet' Breakfast Buffet !!
WELCOME to DORA's ROOM... Coffee is 'OUT' at 8:00 AM in...
Our Spacious, 650 square foot, Breakfast Area and Guest Lounge, boasting the Largest of Our SIX Natural WOOD Burning Fireplaces!!
On 'This Wall'... you will see the Paintings of Three 'CLASSIC' Highwaymen... Harold, Alfred and James...
The 'WARM and FUZZY' Dinning Room !! Where Our Breakfast Buffet is served 365 Days a YEAR!!
Living Up to Our 4
DIAMONDS... Breakfast begins with one of Randy's 'Generous' Fruit Platters and Margie's Fresh Nut Breads!!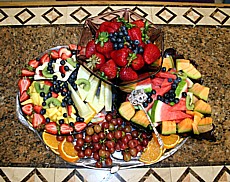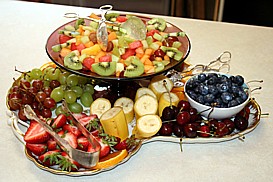 Our Guests enjoy their meal on RS Prussia and RS Germany Porcelain from the early 1900s...
Using Randy's Mother's LADY HAMILTON Silverware from the 1940's.
M

argie is the BAKER!! Breakfast begins with her Freshly Baked Nut Bread and Ends with one of her AWESOME Desserts !!

And In Between, one of her many Delicious Egg Casseroles, accompanied by...
One of Randy's Creations (seen above), a variation on 'Margie's Mom's Fried / Poached Eggs -- These over Bacon, Ham, and Mushrooms... then topped with Assorted Cheeses... with his Specially Seasoned Sausage Patties!! HEY... your on Vacation!!
**** Click Here... To View Our Rooms and General Rates !! ****
~~~~~~~~~~~~~~~~~~~~~~~~~~~~~~~~~
You are Invited to Relax in the PARLOR...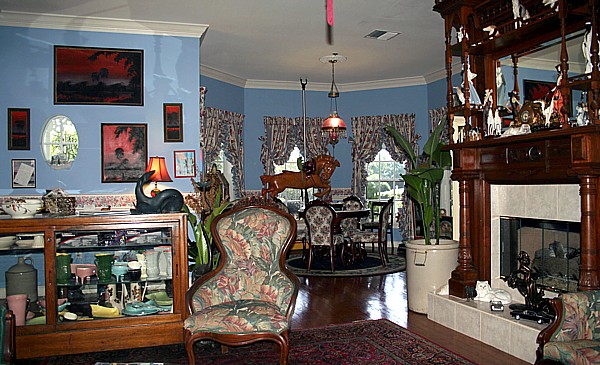 The 'Reading Room' or 'Mini-Museum': Available to our Guests - 24 Hours a Day - 365 Days a Year !!
~~~~~~~~
Parking in Downtown Mount Dora may be VERY difficult to find on Weekends and during Special Events...Not to Worry!!
Just leave your car, and... Downtown is only 4 Short Blocks away...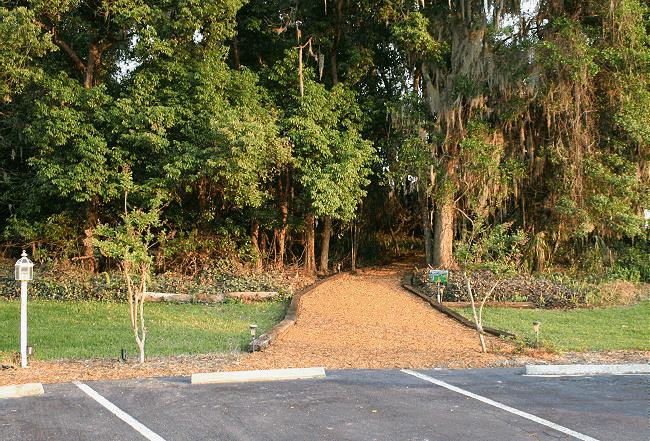 Leave from our parking area via the 'Pathway to Town'; then connect to the City's 'Walkway to Town'...
~~~~~~~~
From the 'Tradition' of our Palm Beach Gardens' HERON CAY Intracoastal Bed & Breakfast...

When Life was an 'Endless' Party!! The ORIGINAL HERON CAY... 1991 - 2002 !!

The FOLLOWING is Just more of Randy's 'Babbling and Rambling'... (i.e. 'Blogging??')

~~~~~~~~~~~~~~~

** About US and Our 'Kids' ** ~~~~~~~~~~~~~~

****PLEASE NOTE... ALL of Our KIDS live in OUR Area...****

They are always nearby... But DO NOT 'roam' the B&B... and are NEVER in the Bedrooms (other than the PET FRIENDLY Rooms) !!

You will hardly know they are here... unless you would like to meet them!

Two of our 'Zoi' girls have Never 'Barked' and One of those, Pixie Dust, will be Eleven in July!!

~~~~~~~~

Below... 1996 - Our First Borzoi; Lady Jade at 9 months, chasing Super Star at 3 months,.. on 'The Sandbar'; their Favorite Place to Be! Sadly... Jade, Jasmine, Star and Kalif are Gone... CLICK 'HERE' to Visit our Current Wonderful BORZOI - 'ZOI' - (aka... Russian Wolfhounds)!!

BORZOI 'Cruise' at 30+ mph !! At 'FLANK SPEED'... They can 'Run Down' a RABBIT... and/or 'out run'

most Greyhounds !!

~~~~~~~~~~~~~~~~~~~~~~~~~~~~~~~~~~~~~~~~~~~~~~~~~~~~~~~~~~~~~~~~~~~~~~~~~~~~~~~~~

Our first Zoi... Jade, Jasmin

e, Star and on August 28, 2013, KALIF... are Now 'Gone'... I shall never stop Crying for my 'LIF'...

3:45 pm - Monday, September 8, 2014. ANASTASIA just died... after a two year battle with a lung tumor. Oh GOD... How she will be Missed.

He has left his three ladies... ANASTASIA... *Now GONE*, 'Baby' DARLA... and PIXIE DUST *GONE*!!

However... by shear 'accident'... three days after we lost our BOY... we were asked if we could 'foster' a 6 month old Girl Borzoi puppy. We said we would... She arrived on Labor Day, 2012: When she entered our home, and lives, we knew the 'Fostering' was over. Vonya... is in her 'Forever' home, with her 3 older 'Sisters'. Between the tears... I can again smile. It has taken some time for me to be able to edit this part of our Web Page.

Meet 'Vonya', our newest girl... following in her older 'sister', Darla's Paw Prints...
But Now... Sadly... without the watchful eyes of our Boy, Kalif... but now with her 'new' Sisters guiding her...
THEN...
And NOW...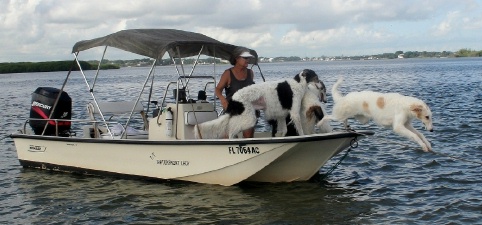 ~~~~~~~~~~~~~~~~~~~~~~~~~~~~~~~~~~~~~~~~~~~~~~~~~~~~~~~~~~~~~~~~~~~~~~~~~~~~~~~~~~~~~~~~~~~~~~~~~~~~~~~~~~~~~~~~~~
It is over a year... and I still can not address the loss of my Boy... Kalif... So I have changed little of the following...
~~~~~~~~~~~~~~~~~~~~~~~~~~~~~~~~~~~~~~~~~~~~~~~~~~~~~~~~~~~~~~~~~~~~~~~~~~~~~~~~~~~~~~~~~~~~~~~~~~~~~~~~~~~~~~~~~~
And little has Changed... still THEIR Favorite Place to be...'On the SANDBAR!!'... And OURS... to be with Our Beloved BORZOI !
This past Summer... Check the Choreographic !!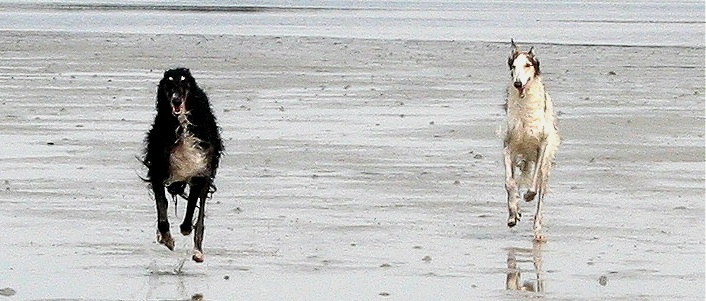 Darla and Pixie Dust... AT SPEED !! PRICELESS !!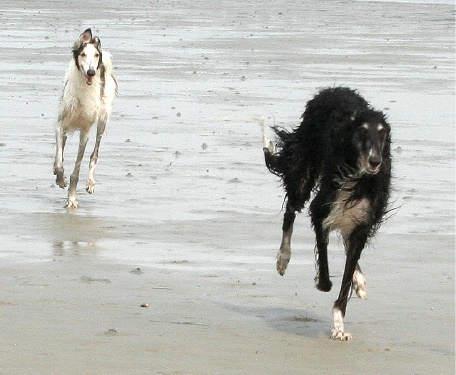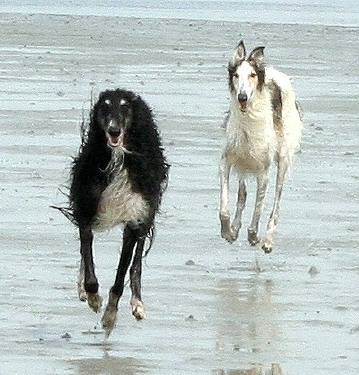 Now a look back into the Past...
October 1st, 2008
April 14th, 2011... not Much has Changed!
Below - Summer of 2005:
One of Her first trips to the 'SANDBAR'... Darla becomes know as 'Fearless' Flying Darla !
Below - June 7th, 2006... Her second summer 'On the BAR' !
And below... 5 YEARS Later - June 1st, 2011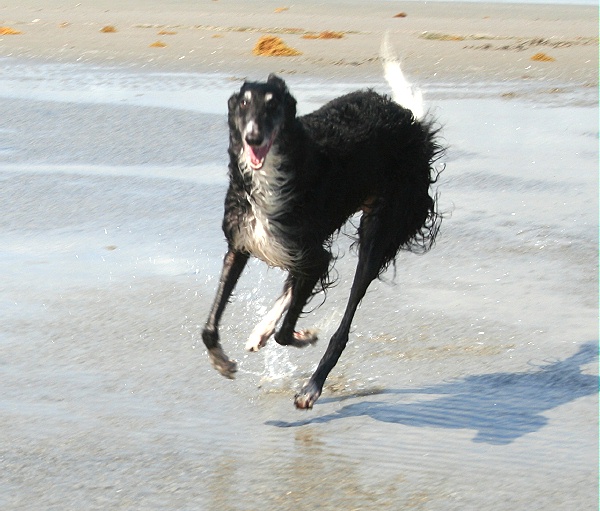 'Check' the PAWS! She is Still FLYING HIGH!!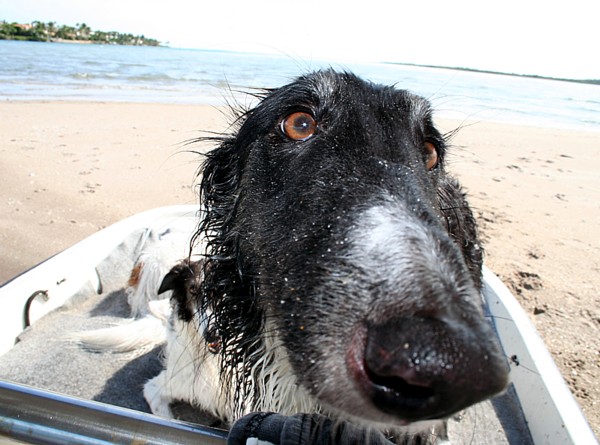 This is Darla when we told her this was the LAST Trip to the SANDBAR until next Summer...
But on April 14th, 2011...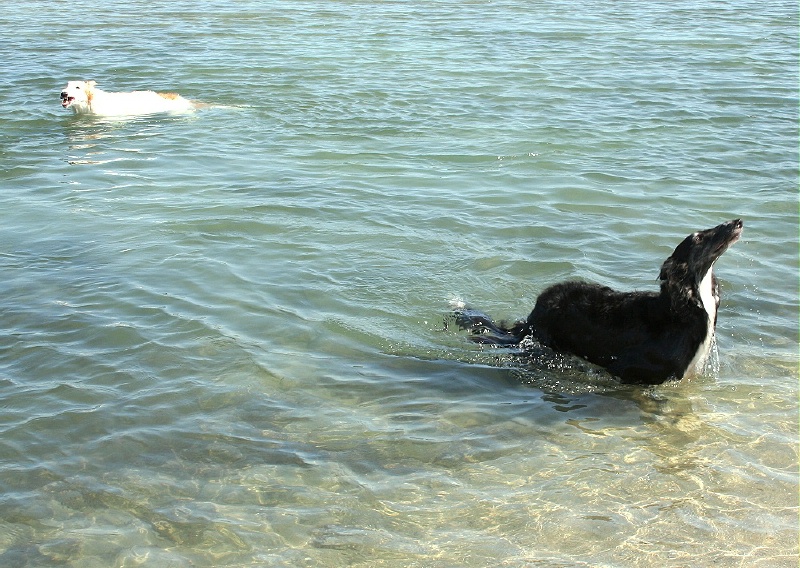 We're BACK !!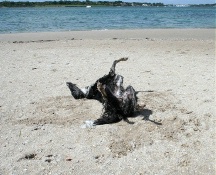 DARLA!! YES! I am BACK!! And ... doing what I love BEST... 'BREAK DANCING' !!
June, 2011
Okay... Let's GO... What's the Matter with you ALL You WIMPS ?!?
"Okay... I'm Out Voted!" All On their way back home... to CRASH in the Parlor!
~~~~~~~~~~~~~~~~~~~~~~~~~~~~~~~~~~~~~~~~~~~~~~~~~~~~~~~~~~~~~~~
Darla's Early Days... at 20 weeks... with Kalif...
'Robbing the Cradle... She's Mine' !!!

~~~~~~~~~~~~~~~~~~~~~~~~~~~~~~~~~~~~~~~~~~~~

There are few things on this EARTH, that mean as Much to US, as OUR BORZOI... and KITTIES!!

There is Nothing Like Borzoi!!!... When you 'HAVE

Lived With' BORZOI... you will know... There is Nothing Like Borzoi!!!

BORZOI only GIVE... and Ask BACK... LOVE!!

~~~~~~~

~~~~~~~~~~~~~~~~~~~~~~~~~~~~~~~~~~~~~~~~~

Our Beloved

BORZOI... Darla, Anastasia, Pixie Dust and Kalif...
Now only one of our 'FAB FOUR', 'Darling Darla', remained with us: 'Dusty', 'Lif' and now 'Stasia' have left us...
And now... Our Two Kitties:
Our youngest is TOMMY... now 6 Scotty... turned 18, November, 2014
On Tuesday Morning, December 9, 2014, at the age of just over 20...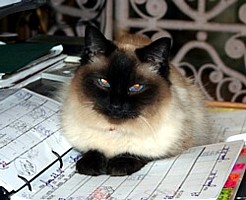 Abby died at home... in my arms: This was hard... Very Hard.
~~~~~~~~~~~~~~~~~~~~~~~
Then, less than 5 months later, on Wednesday, May 6, 2015: What I thought would be easier...But Was Not...
After over 24 years of life ... 23+ with us... our beloved Guana left us... It was even Harder...

~~~~~~~~~~~~~~

2008 we lost two of Our 'Kids': On May 25 we had to said 'Goodbye' to 'Mr. Jack'; then on October 28th, to 'Foxy Guy'... it is still like Yesterday.

Click on their Pictures... to visit 'Their SITES'

'Mr. Jack, the CAT'... 13 years Young... died too Young 'Foxy Guy'... 15 years, also too Young

NO, I Never 'Let Go of', or 'Forget', my Kids... DAD.

~~~~~~~~~~~~~~

They ALL Were, still ARE and always will BE... a Major Part of OUR Lives!!

It is impossible to find 'Words'... to convey how much ALL of Our 'Kids' have meant, and still mean to us!!

We Love you All so MUCH... Mom & Dad!!
And now... something that NEVER crossed our minds...
~~~~~~~~~~~~~~~
I have been slowly updating our Web Site over the past year... Our other KIDS have been a huge comfort: Darla, Anastasia, Pixie Dust... Our Kitties and our newest Girl Zoi, Vonya: But so hard without my 'BOY'... my 'SON'... Kalif, who Died Suddenly from 'Natural Causes'... August 28, 2012...
It has been Two Years... but it is like Yesterday, since I lost my boy KALIF... I shall NEVER forget him...
MY GOD, how I loved HIM...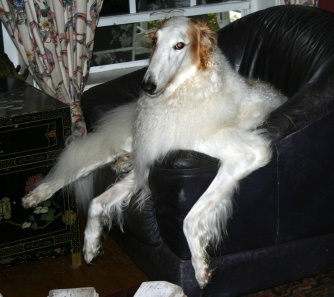 He was 'gone' in only minutes... I NEVER was able to kiss him, and say Goodbye... Until he was dead...
And now... another sudden loss...
Our oldest Borzoi... PIXIE DUST - 10 1/2 years young... Died suddenly from 'Natural Causes'... March 22, 2014...
We are ALL crying... Her passing comes exactly 9 years, from when we lost our first boy 'Zoi'... Super Star... March 22, 2005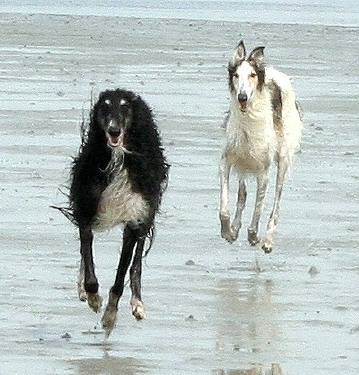 Here is DARLA (on the left)... and PIXIE DUST; doing what she (they) loved they most... Running on 'The Sandbar' !
AND Now... On September 8th, 2014... ANASTASIA joined the list...
3:45 pm - Monday, September 8, 2014... Anastasia died: Our 'baby' girl, at nearly eleven years, lost her two year battle with a lung tumor.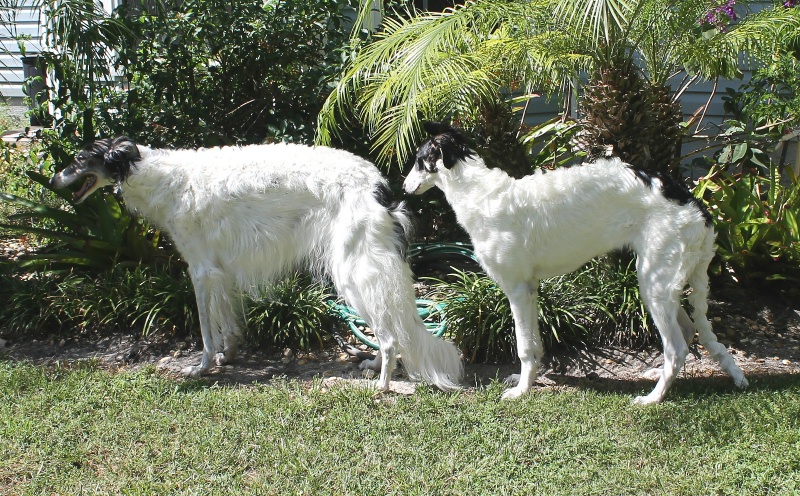 Our new boy, Ringo, was able to meet Anastasia the day after he arrived on August 27... and spend 12 days with her before her death.
'HAPPY 'Stasia' July 12, 2014... She did not know, nor did we... in just a little over a month... she would leave us...
~~~~~~~~~~~~~~~~~~~~~~~~~~~~~
A 5 1/2 month old Borzoi PUPPY has now joined our FAMILY!!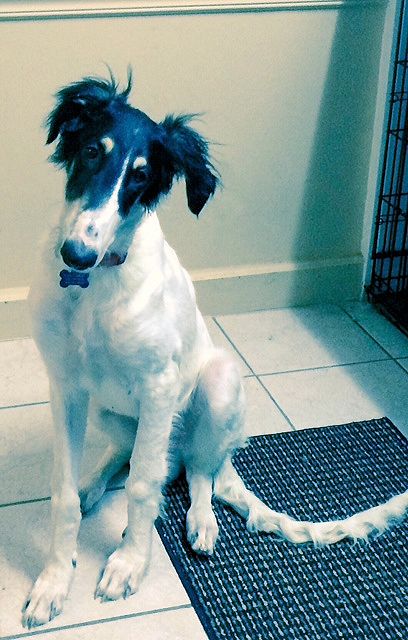 MEET RINGO'SKI' !!
I left Mount Dora on Sunday, August 24th, 2014; picked 'Ringoski' up in Cookeville, TN, 2:00 pm Monday, August 25th.. and we arrived back HOME 1:15 pm Tuesday, August 26th; after a 'quick' 1300+ mile Trip!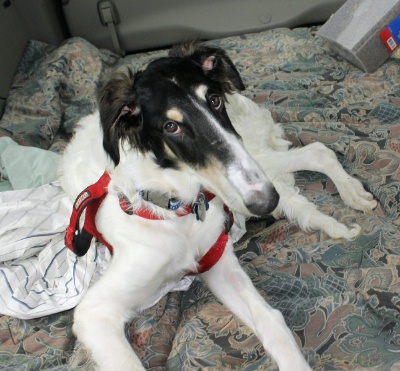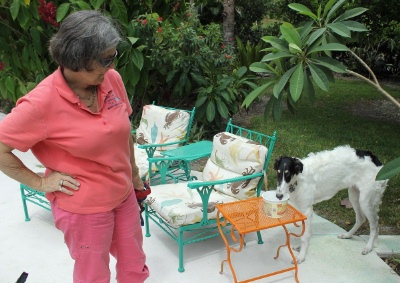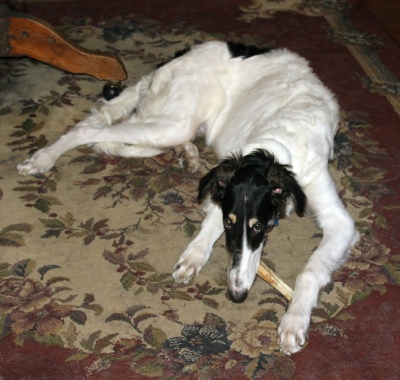 He has been here for a Year now, 17 months old and is a 100% Couch Potato !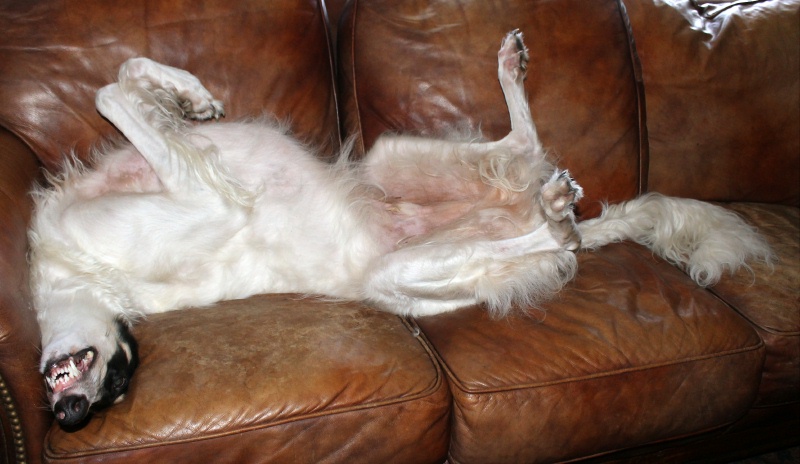 And LOVING every Minute !!
MANY More PICS COMING!!
SOON... the Borzoi Miracle story... VONYA... reunited with her Brother MAX after 2 Years!! Against ALL ODDS !!
Margie and Max... 130 pound of Fluff & LOVE !
~~~~~~~~~~~~~~~~~~~~~~~~~~~~~~~~~~~~


Latest Revision - October 7th, 2015

GOD SAVE and BLESS AMERICA !!
~~~~~~~~~~~~~~~~~~~~~~~~~~~~~~
Mount Dora FL Bed and Breakfast | Bed and Breakfast in Mount Dora Florida | Mount Dora Florida Bed and Breakfast |
Mount Dora FL Lodging | Mount Dora FL Inn | Mount Dora FL BnB| Mount Dora Florida BnB |
Mount Dora FL Lakeview Bed and Breakfast | Link Resources